How do you find nurses and carers to fill your shifts?
An agency, of course.
An expensive agency that piles paperwork and phone calls on to your staff's already-full workload.
What if you could find quality nurses at the click of a button - and save money?
That's what Florence does.
Florence is not an agency. Florence puts you in control by giving you a better way to find nurses and carers for your care home shifts.
Four reasons Florence is different from an agency... and one similarity
Discover how you'll benefit from Florence vs. an agency - click to jump to each section, or scroll down to read them all.
And the similarity...
With Florence, you can expect to save about 30% on monthly staffing costs.
How? You set the hourly rate for shifts, and adjust depending on demand.
You'll save by avoiding inflated agency rates and paying only the right amount a nurse will work for.
For example, areas with many available nurses could have lower rates, as there's competition for shifts. Busy times like Christmas would have increased rates, to attract nurses.
You can tweak your pricing to fit the market demand at any time, staying constantly in control of your costs.
Traditional nursing agencies will charge you the highest hourly fee they can, which includes their commission and the nurse's fee.
How much of that fee goes to the nurse? Often, not enough - agencies will pay themselves generously first. And nurses who feel under-valued don't perform as well.
Florence's clear pricing stops this doubt.
The rate you list for shift is seen by the nurse before applying, and paid in full. Florence never takes a cut.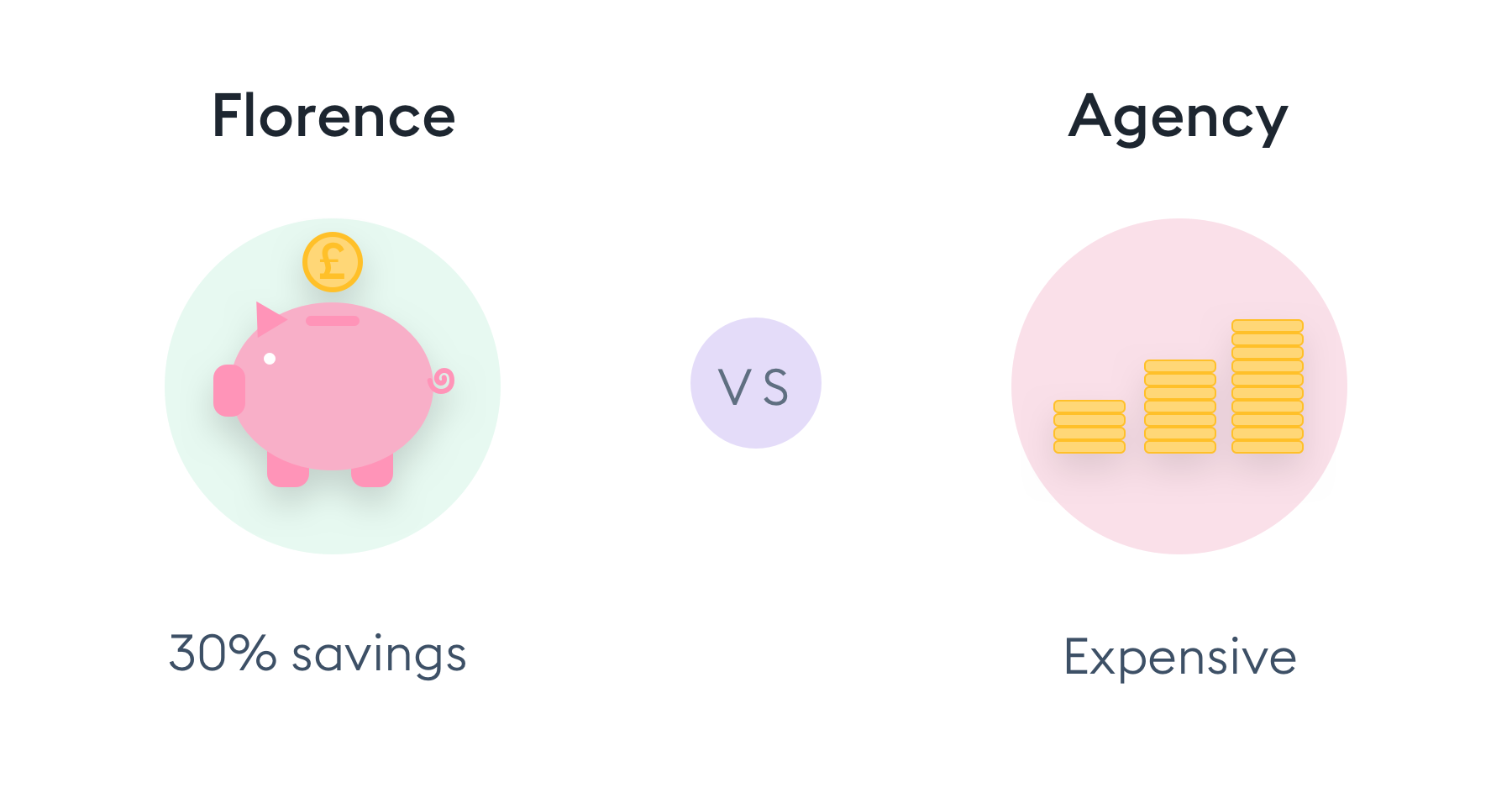 How much does your nursing agency charge to recruit a nurse?
10% of annual salary, 15%, 20%? £2,000 per nurse?
Whatever it costs, it's not free.
We don't charge a fee to recruit full-time nurses through Florence.
We're trying to solve the nursing staff crisis, not add to it.
If you like a Florence nurse's work and feel they meet your values - offer them a job. We don't see this as losing a nurse; it's a victory for residents' care.
Sign up now to start finding quality nurses.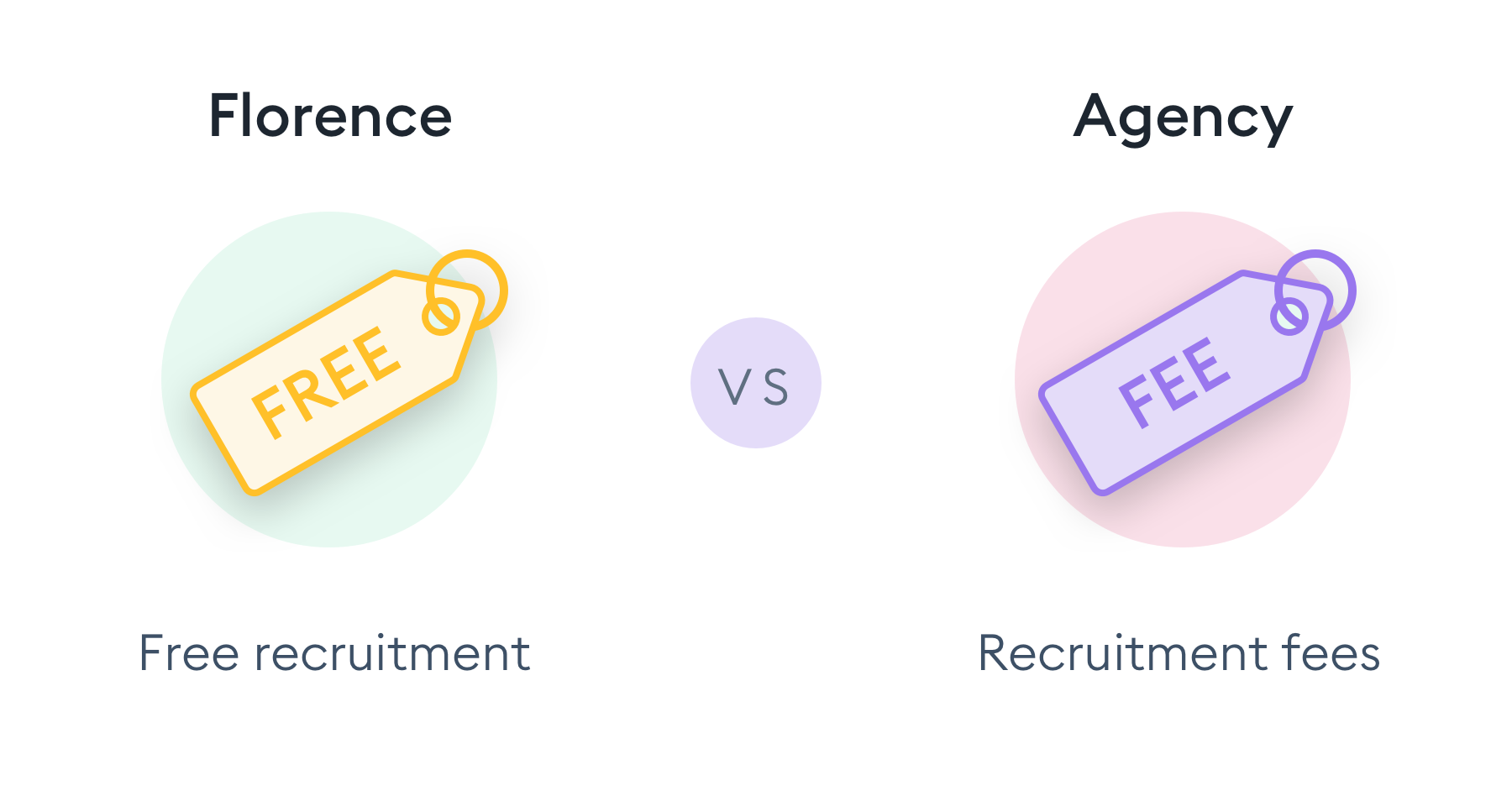 Care homes often tell us Florence nurses are "better".
As well as our high quality standards, we think this is because of our unique rating system - Florence nurses are rewarded when performing at their best.
You rate Florence nurses after each shift, adding to their public score. A higher score means a nurse is more likely to be accepted for other shifts. In turn, nurses will rate your care home.
You can also invite nurses you like back for shifts. This makes it easier to give residents continuity of care, and gives you a high level of oversight and control over who works your shifts.
Agencies don't have this system. You can send feedback or request certain nurses from an agency, but miscommunication or people changes can mean bad nurses continue working.
You don't often get a choice who works your shifts with agencies.
With Florence, you can click a button to stop a below-standard nurse from applying again.
It takes a lot of time to recruit through agencies.
With Florence, there are no back-and-forth calls discussing rates and trying to fit nurses with shift requirements.
You put requirements in the shift listing, and nurses who meet these will apply. Our unique algorithm matches the right nurses to your shift, meaning you'll always have qualified candidates.
When it comes to payment, no paper or signatures are needed. Timesheets and payroll are managed through Florence.co.uk, hugely cutting down on back office admin.
The digital record also helps you prepare for CQC inspections and internal audits.
More about payments and reporting at Florence.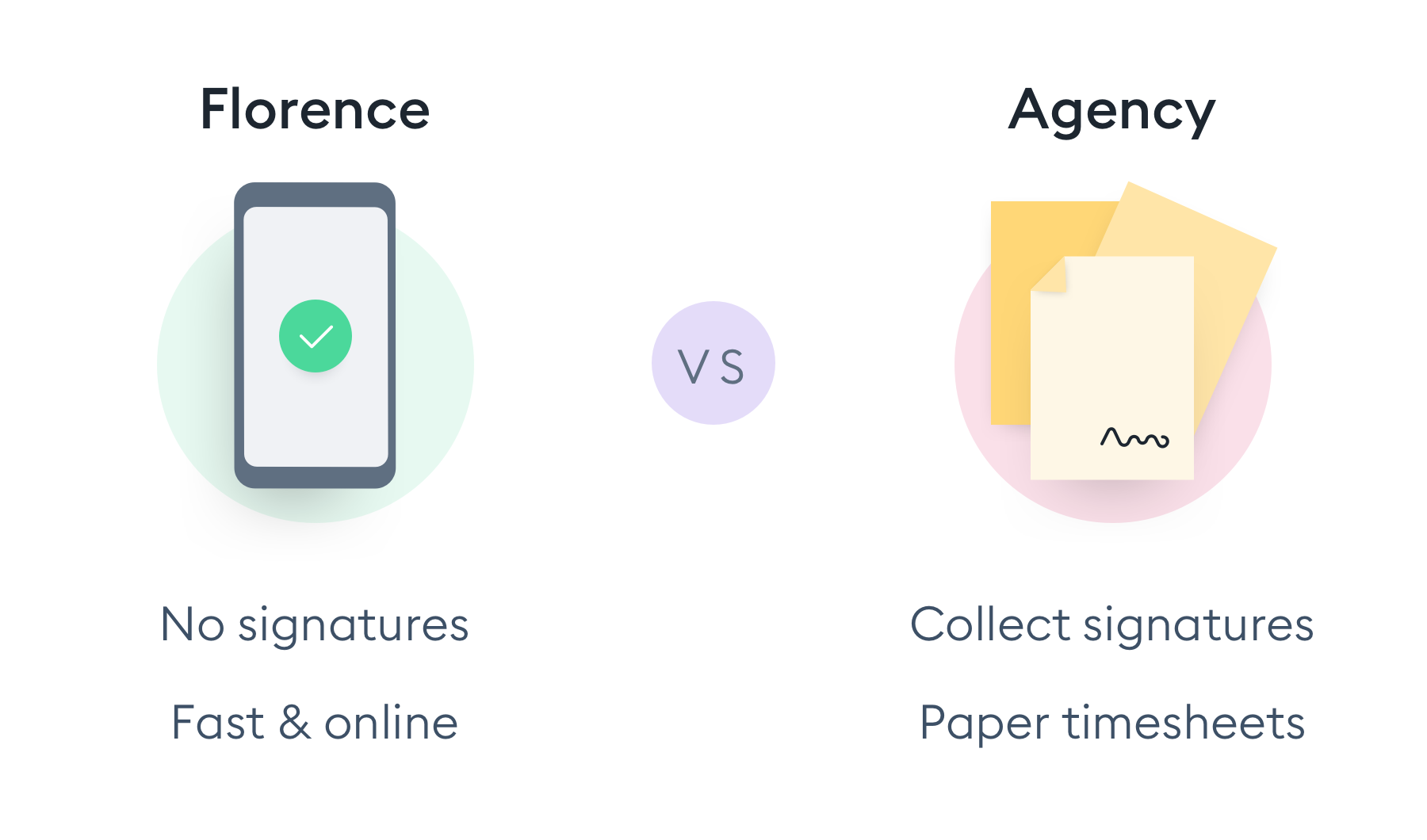 Florence is most similar to agencies when it comes to background checks. We give nurses the same high level of checks, to ensure residents' quality of care and safety.
Florence nurses go through extensive checks, including:
Right-to-work
References
DBS
NMC
Full work history
Every nurse booking shifts through Florence has been properly assessed. We speak with nurses multiple times before they use Florence, to make sure your high standards are met.
The major difference between nursing agencies and Florence is our rating system, which means nurses stay accountable for their work. Ratings act as a continuous check on nurses' ability.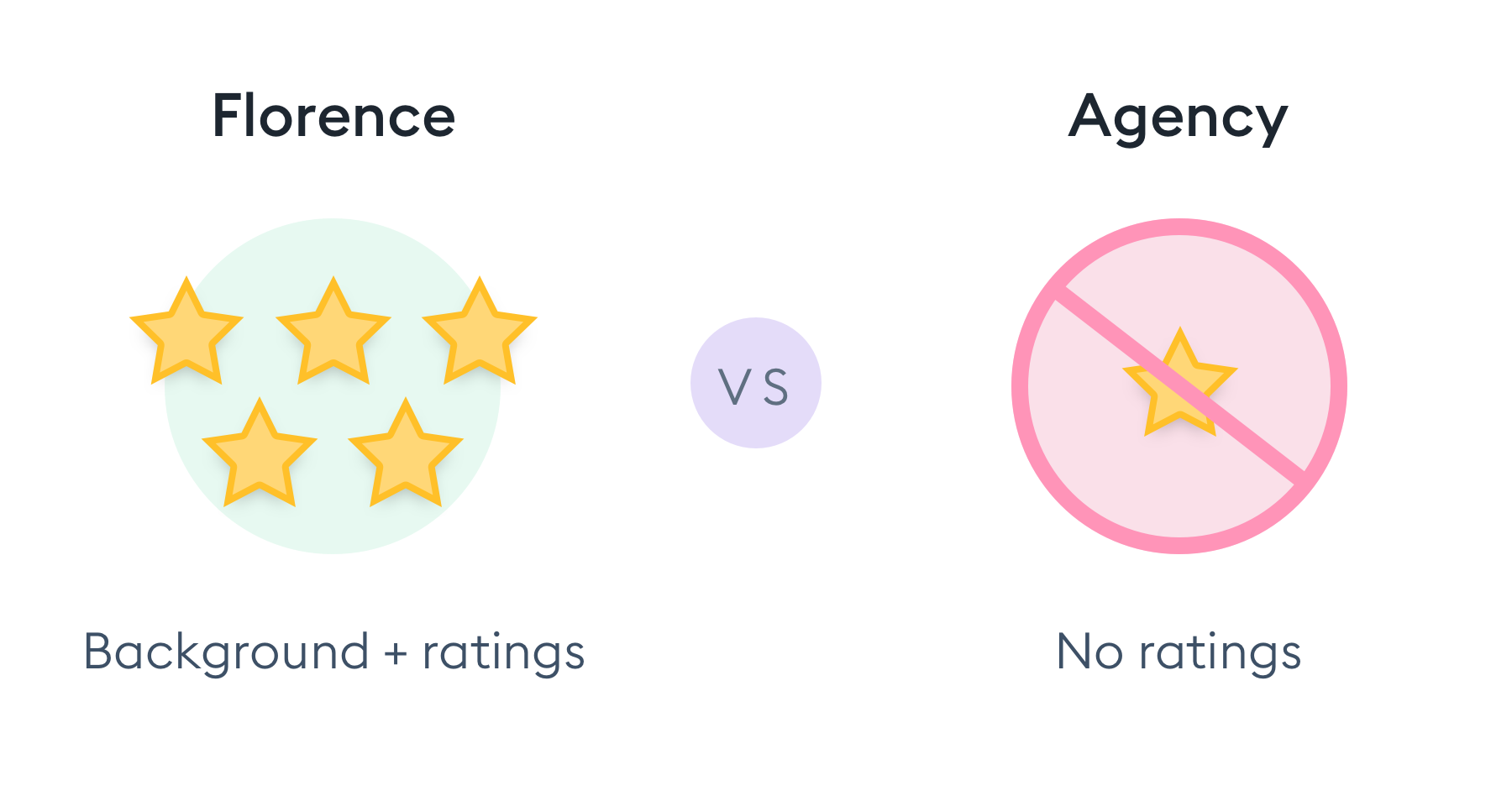 Sign up today
Florence is the future of booking nurse shifts.
Nursing agencies are expensive, time-consuming and stuck in the past.
If you're using a traditional agency right now, try Florence and take back control of your temporary staffing.
Hundreds of care homes have turned to us to reduce their costs, fill temporary shifts and potentially hire full-time workers.
Join them - it only takes a few minutes to register.
Register here or call us on 020 3911 2555 to discuss how to get started.